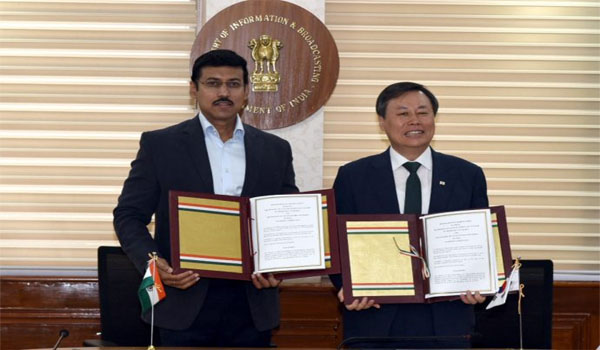 ---
1. A Memorandum of Understanding (MoU) was signed between the Ministry of Youth Affairs and Sports of India and the Ministry of Culture, Sports and Tourism of the Republic of Korea on sports cooperation here today.
2. From Indian side the MoU was signed by the Youth Affairs and Sports Minister Col. Rajyavardhan Rathore and the Korean side was represented by their Minister of Culture, Sports and Tourism H.E DO JONGHWAN.
3. The objective of this Memorandum of Understanding (MoU) is to establish a framework to facilitate and promote cooperation between the two countries on the basis of reciprocity and mutual benefit. The cooperation under this MoU may include areas like;
Exchange of coaches, athletes, experts;
Exchange of scientific and methodical materials
Joint training for athletes and officials;
Participation in a sports event, seminars, symposia and conferences organized by either country etc.
4. The two countries will encourage exchanges and cooperative actions between sports authorities, sports federations and other sports bodies in the different areas of cooperation, as jointly decided.
5. Expressing happiness over the signing of the MoU, Col. Rajyavardhan Rathore said that such an initiative would broaden the cooperation between the two countries not only in the field of sports but also in other areas.
6. He further stated that two countries must also collaborate in sports such as Archery and Taekwondo where the Republic of Korea is one of the pioneer countries.
7. The best practices in the management of sports infrastructure, governance of sports followed by the Republic of Koreas need to be studied for improvement in our system, he added.
Published On : 06 Nov 2018
Current Affair