Indian Army has announced recruitment notification for the post of Khasa Cantt Army Rally, eligible candidates can submit their application before 15-10-2018.
1. Army Recruitment Rally
will be held for eligible candidates of districts
Amritsar, Tarn Taran, Gurdaspur & Pathankot
from
04 October 2018 to 15 October 2018
at
Khasa Cantt
. The entry gate for the subject rally would be established at CP-8, Khasa Cantt. Gate will be open from 0200hrs and will be closed by 0700hrs on each day. Online registration is mandatory and will be open from
10 August 2018 to 23 September 2018
. Admit Cards for the rally will be sent through applicants registered e-mail from
23 September 2018 to 30 September 2018
. Candidates should reach the venue on a given date and time as mentioned in the Admit Card.
2. Candidates will be screened for following Categories and as per Qualitative Requirements mentioned below:-
1. Qualification: SSLC/ Matric with 45% marks in aggregate and 33% marks in each subject. No aggregate percentage required for higher qualification i.e. 10+2 and above.

2. Age Limit: 17½-21 Years

3. Physical Measurement:
a) Height - 170 cm
b) Weight - 50 Kgs
c) Chest - 77 Cms with 5 Cms Expansion
1. Qualification: 10+2 / Intermediate exam pass in Science with Physics, Chemistry, Maths, and English with 50% marks in aggregate and 40% marks in each subject.

2. Age Limit: 17½-23 Years

3. Physical Measurement:
a) Height - 170 cm
b) Weight - 50 Kgs
c) Chest - 77 Cms with 5 Cms Expansion
1. Qualification: 10+2 / Intermediate exam pass in Science with Physics, Chemistry, Maths, and English with 50% marks in aggregate and 40% in each subject.
OR
Three years Engineering Diploma (Mechanical/ Electrical/ Automobile/ Computer Science / Electronics & Instrumentation).

2. Age Limit: 17½-23 Years

3. Physical Measurement:
a) Height - 170 cm
b) Weight - 50 Kgs
c) Chest - 77 Cms with 5 Cms
1. Qualification: 10 + 2 / Intermediate Exam pass in any stream (Arts, Commerce, Science) with 60 % marks in aggregate and minimum 50 % in each subject.

2. Age Limit: 17½-23 Years

3. Physical Measurement:
a) Height - 162 cm
b) Weight - 50 Kgs
c) Chest - 77 Cms with 5 Cms
1. Qualification: 10+2 or equivalent exam pass in Science with Physics, Chemistry, Biology, and English. Qualified in D Pharma with Min 55% marks in aggregate and registered with State Pharmaceutical Council/ Pharmacy Council of India. Individuals qualified in B Pharma with Min 50% marks and registered with State Pharmaceutical Council / Pharmacy Council of India are also eligible.

2. Age Limit: 19-25 Years

3. Physical Measurement:
a) Height - 170 cm
b) Weight - 50 Kgs
c) Chest - 77 Cms with 5 Cms Expansion
3. Candidates will be tested as stated below:-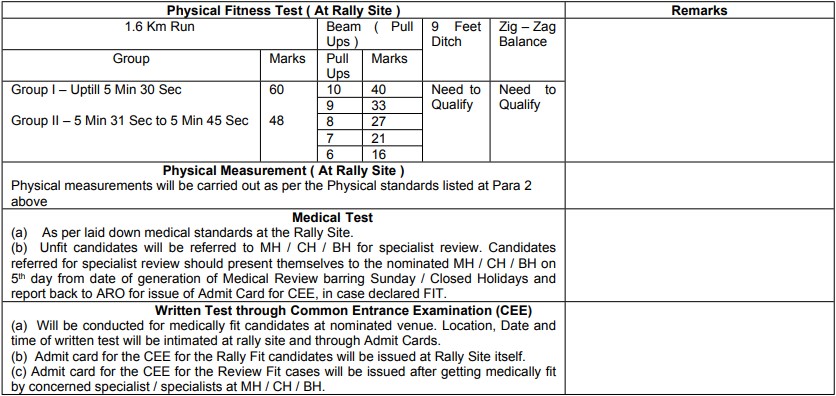 4. Indian Army: Khasa Cantt Bharti Rally Schedule 2018
Rally Dates - 4th to 15th October 2018
Venue of Rally - Khasa Cantt, Amristar
Online Registration Dates - 10th August to 23rd September 2018
District to be Covered - Amritsar, Tarn Taran, Gurdaspur and Pathankot
Read More:Indian Army Bharti Rally - Qualification, Physical Measurement Criteria Online Registration - Apply for a new entry or Already registered Login here